Senior Editor
The PGA of America
Location: Palm Beach Gardens, Fla.
Phone(s): (561) 624-8458
Email:  [email protected]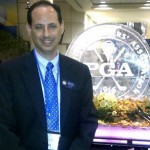 Michael R. Abramowitz is the Public Relations Manager for PGA Membership for the PGA of America in Palm Beach Gardens, Fla.  He is responsible for promoting stories on the PGA's 28,000 men and women members to the worldwide media, while serving the members and growing the game of golf.
Michael is responsible for writing corporate communications for the PGA's Board of Directors and Executive Staff. His work includes speeches, press conferences, media interviews and events. He also writes monthly stories on the golf industry for PGA Magazine. Several advertisements he has written, managed and produced have appeared on outlets that include CBS Sports, ESPN Radio, Sports Illustrated, Fortune, GOLF and Google Adwords. He was promoted from Senior Editor in March 2015.
Michael's articles on sports, news, politics and finance have appeared on: AOL, Bankrate.com, Palm Beach Post, PGA.com, PGA Championship Journal, Senior PGA Championship Journal, PGA Professional's Guide to Travel, Play Florida Golf, Private Journey Magazine, Atlanta Now Magazine, Young Money Magazine, Your Money Report, Business to Business Magazine and Communication Daily.
Michael spent five years at CNN Headline News as an editor, where he created both "Play of the Day" and "Sports Trivia" for Headline News and CNN Airport Network; served as coordinating producer of the organization's 1994 Winter Olympics coverage; and worked as a video editor of the O.J. Simpson Trial.
In 1996, Michael served as swimming venue press chief for the Paralympic Games, handling the worldwide media's coverage of the event, while managing a staff of 20.
He was the first online journalist ever to receive a National Press Foundation Fellowship in Economic Modeling and Forecasting. Michael is also believed to be the first online journalist to have covered Berkshire Hathaway's annual meeting, in 1999, while working for a division of Bankrate.com.
A 1990 Honors graduate of the University of Georgia's Henry W. Grady College of Journalism, Michael is currently a member of the Golf Writers Association of America, Golf Travel Writers of America, National Football Foundation/College Football Hall of Fame voter, University of Georgia Redcoat Alumni Band and a member of the Board of Directors for Kayla Cares 4 Kids, a national children's charity.
Links to Michael's work:
PGA Magazine: Reaching Out to Local Youth
PGA Village: Exciting Golf and Entertainment Experience — S180 Simulator Debuts
Maj. Dan Rooney Wins William Richardson Award